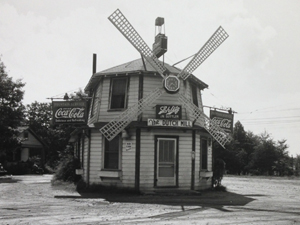 The Tool Shed is a Greenville, SC landmark located on Poinsett Highway. The original building was constructed in 1950 to be a skating rink. The old Dutch Mill Restaurant was on a small triangle at the front of the property.
After the skating rink closed the building went through a series of names including Poinsett Auditorium, Village Barn and Blueridge Playhouse. It was rented out for gospel singing groups, Motown groups, dances, weddings, wrestling matches, etc. With its open interior space, wood floors and distinctive barrel roof it became well-known in the area. Many of our customers still get nostalgic remembering fun times they had here in the past.


The Tool Shed purchased the building in 1978.  The original showroom covered 1,500 sq. ft. with a few pallets of tools laid out in the warehouse. Today, you can walk through our 15,000 sq. ft. store on the original hardwood floors and see why we call it the toy store for big boys.
Room to Grow and Show
Our product selection is constantly expanding and we have recently increased our showroom space so our customers can learn about, and have access to, the latest tools.
We also have an in-house area that allows us to provide live demos and product training. We are easy to find, easy to access and provide lots of parking space. We even have multiple loading docks for loading and unloading larger tools and machinery.

Professional Tools For Professional People
The Tool Shed has a unique look and history. But what truly makes us unique is our expertise and knowledge in stocking, selling, and servicing the coolest tools on the planet where pros from all trades can tool up for their next project.
Professional work requires professional tools and we are the one-stop source for all of your pro tool needs. Our large inventory ensures that we will have what you need and will keep you informed on the latest products available in the pro tool market.